.
Versión Español --- English Version
Editors note: Paisatours.com does not offer any travel related services - we are not a tour operator, nor a travel agency. This website is Colombia's most popular independent online travel guide. Here we try to offer honest, impartial advice for independent travellers to Colombia - to book a trip, consider checking the page on recommended travel agencies.
Many who haven't travelled to Colombia mistakenly imagine the country as a dangerous land of drugs, guerrillas and rainforests. However, those who do travel to Colombia, discover something very different, and many visitors find it to be their favourite vacation destination in all of South America. Large parts of Colombia are perfectly safe for travel, while in other areas caution must be taken.
Colombia is one of the few countries in Latin America that genuinely has almost everything travel wise - amazing beaches, rainforests tours and jungle lodges, archaeological ruins and sites, colonial towns oozing charm, buzzing nightlife and trendy hotels in cosmopolitan modern cities, wildlife viewing tours and whale watching trips, scuba diving, fantastic trekking, rafting and adventure tours and beautiful and welcoming locals. One could easily spend up to two months travelling around Colombia. For for those less on time, this online Colombia travel guide should help choose where to visit on your vacation.
This Colombia travel guide is separated into four distinct sections: browse either by destinations (regionalized - on the left), or by activities, or see the Colombia travel videos, or check out the frequently asked questions section. Alternatively, see the sitemap for all the sections.
Colombia's Caribbean Coast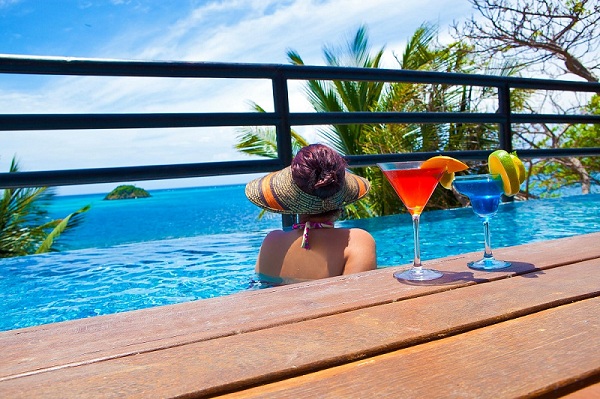 Newly opened luxury boutique hotel Deep Blue on Providencia Island has a spectacular location and offers visitors the chance to explore one of the Caribbean's most idyllic and unspoilt islands in style, see www.hoteldeepblue.com.
The top travel highlight is Cartegena, quite possibly Latin America's most beautiful colonial city, a must see on all vacations to Colombia and a great place to stay in a luxury boutique hotel. There's nearby fantastic beaches at both the Rosario Islands and Park Tayrona (the best beaches in South America?). The beach resort of Santa Marta is the base for an amazing 6 day jungle trek to the amazing ruins of Ciudad Perdida. Travel further East to discover the remote indigenous communities of La Guarija Peninsula, an arid landscape of empty beaches and flamingoes. A short flight from Cartegena and one encounters great beaches and scuba diving at the beautiful Caribbean islands of San Andres (more developed) and Providencia (unspoilt and idyllic), alternatively one can travel West to the beaches of the rarely visited San Bernardo Islands and Capurgana.
Colombia's inland travel highlights
Capital city Bogota is a gateway for travel elsewhere in Colombia, though it also has palaces, plazas, museums, buzzing nightlife and fantastic hotels to appeal to visitors. To the north lie Villa de Leiva and Mompos, two of Colombia's most tranquil and charming colonial cities. Nearby San Gil is Colombia's adventure travel and watersports centre. A long bus journey North from Bogota is the trekking mecca El Cocuy National Park.
Travel South to Medellin, known as the city of the eternal spring due to it's fantastic climate. Most visitors to Colombia who make their way to Medellin agree that it's one of the prettiest modern cities in Latin America. Nearby Medellin, tours into Antioquia's countryside offer a spectacular backdrop to experience rural life in Colombia. Nearby tourist attractions include El Penol, a huge rock (aka Sugar Loaf in Rio) protuding from the lush green landscape and surrounded by a lake with beautiful islands. Santa Fe de Antioquia is small traditional Paisa town just outside of Medellin. A few hours overland travel from Medellin, Rio Claro is a beautiful place to relax and take nature tours. In addition, Colombia's beautiful coffee country is just a few hours away and is gateway to some fantastic scenery and trekking in Los Nevados Park.
Travel still further South to discover Cali's buzzing salsa scene, the colonial town of Popayan, and the mysterious archaeological sites of San Agustin and Tierradentro. Alternatively, catch a flight deep into the Amazon rainforest and stay in a jungle lodge hotel near Leticia.
To the East of Bogota lies a region slowly opening up to tourism. In the spawling savannahs of Los Llanos, travellers can experience the folkloric lifestyle of the Llaneros cowboys whilst visiting or staying on a cattle ranch. Closeby is the spectacularly multi-coloured Caño Cristales, which many describe as the worlds most beautiful river.
Colombia's Pacific Coast
There's more stunning rainforest backed empty beaches and surfing in Choco department on Colombia's Pacific Coast, one of South America's wettest and most biodiverse places. Throughout the Pacific coast, whale watching tours can be taken between July and October, the old prison island of Gorgona Island being a unique place to see such whales. There's also lovely beaches and wildlife tours offered at the laid back beach vacation resorts of Nuqui and Bahia Solano.
---